The big friendly giant
(by Rolien Boelens en Steffie De Man)
The 2021 whale shark season is in full swing! Our guest blogger Rolien from Underwater Mexico has a real passion for these animals. In this blog she gives us an extra word about these special fish!
Whale sharks (Rhincodon typus)
Whale sharks are sharks, not whales. The name whale shark comes from the way they feed, by filtering plankton and other small particles from water (just like the whales) and because of their size: they are the largest fish in the ocean. These impressive but gentle giants have an average length of 8-12 meters and a weight of about 21 tons. Their large broad mouths can be up to 1.5 m wide, containing about 300 rows of small teeth, which they cannot use for biting or chewing. It is estimated that whale sharks can live to be between 70-100 years old under normal conditions. Unfortunately, they are listed as endangered on the IUCN Red List of Threatened Species.
What are they doing in Mexico?
Because whale sharks roam in tropical and warm seas, they are also known as the "gypsies of the ocean". They mainly live in the open sea, but not in the great depths of the ocean. On the contrary, they are often close to the water's surface, although they are known to dive to depths of up to 1800 meters. Between May and September, they come to the Mexican Caribbean, which is the largest gathering of whale sharks in the world, with as many as 200 together on some days. They mainly come here to feed on plankton and fish eggs, but it is thought that they may also mate here, although no one anywhere in the world has ever seen whale sharks mate or give birth to young.
What is it like to swim with the gentle giants?
Definitely an item for your bucket list, this is without a doubt an unforgettable experience! We take you from Cancun on a boat with (ecological) four-stroke engines in a small group of max. 10 guests, accompanied by our very experienced captain and crew. It usually takes about an hour to get to the whale shark area, and on this sea safari we will also try to spot dolphins and sea turtles. If there are enough whale sharks in the area, you will have the chance to swim with them, only 2 guests at a time, always accompanied by a guide. As experienced guides, we will make sure you feel safe and get a good view of the whale sharks, even if you haven't snorkeled that much before. We do several laps so that you can enter the water several times. Sometimes we are very lucky, and the manta rays also come to the party, because these beautiful animals eat the same as the whale sharks. Then we sail to the island of Isla Mujeres, where we drop anchor in the water of Playa norte for some relaxing time and a Caribbean lunch.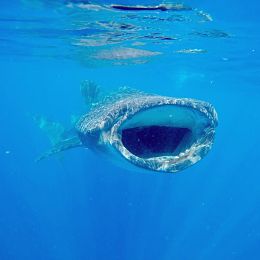 Facts about the whale shark:
1. Each whale shark is unique: the dot pattern is like a fingerprint, this is how each individual can be identified.
2. Although they are the largest fish in the world, they feed on the smallest particles in the sea: plankton and fish eggs. But in huge quantities: they filter an average of 6000 liters of water per hour.
3. They have been around for a long time: the species originated about 60 million years ago.
4. Whale sharks are completely harmless to humans, there has never been an "attack" in encounters with these benign giants.
5. The skin of a whale shark can be up to 10 cm thick, which in combination with its size ensures that they have hardly any natural enemies. Unfortunately, the only real enemy is humans, who mainly hunt sharks for their fins.
Is swimming with the whale shark also on your bucket list? Then keep reading!
Important information and rules for swimming with the whale sharks:
Whale sharks are endangered and protected animals and their activities are regulated by the federal government therefore it is mandatory to follow these rules:
Life jackets are mandatory (and included in the price). Just as it is mandatory to wear a seat belt in the car, a life jacket must be worn both on the boat and when swimming with the whale shark. Safety first!
It is strictly forbidden to touch the whale sharks. Like all aquatic animals, whale sharks have different bacteria on their skin than we do, terrestrial animals. If you touch a whale shark, our bacteria will mix with their bacteria and either or both can get sick. Just look at dolphins in dolphinariums. They are touched all day, which can lead to skin cancer!
Sunscreen is very harmful to marine life and therefore not allowed. Use alternative sun protection such as long-sleeved t-shirts, "rash guards" (swim shirts), sun hats or caps, and face scarves ("Buffs"). For more information, read our blog 'I'm going on an excursion and I'm taking it with me'.
This excursion is not suitable for people who suffer from heart, respiratory or back problems, pregnant women, children under 5 years old or people who cannot swim. People under the influence of alcohol or drugs are not allowed to participate in this tour.
This activity may be rescheduled or canceled due to external factors, such as weather conditions or excessive waves. The port authorities will notify us of any restrictions.
Seeing the whale sharks is guaranteed. In consultation we choose the best day in advance in terms of weather and the chance of whale sharks. If we don't find any whale sharks at all, we'll give you a 50% refund, or you can come on another day (for free).
We cannot guarantee swimming with the whale sharks, according to federal regulations no one is allowed in the water if there are less than 5 whale sharks in the area, so we don't stress the animals. They can of course still be viewed. In practice, however, our guests have been able to swim with the whale sharks every time in recent years.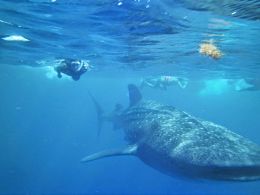 Why do we support swimming with whale sharks and not swimming with dolphins?
We swim with whale sharks that live in the wild and we visit them in their habitat, not in a chlorine-filled pool.
The whale sharks are not exploited for our entertainment. They don't have to put on a show to get food, for example.
These great giants are only observed by us. No kisses are shared with the whale shark! Because admit it that would be too absurd, wouldn't it?
(This is just the tip of the iceberg. Learn more about it in our next blog.)
What is the price tag of this excursion and what is included?
This trip costs 200USD per person. Here EVERYTHING is included! You may find a cheaper price tag on the web, but check whether the ecotax is included. That is already 10USD or 15USD more. Are the photos and videos included in the price? You can quickly pay 50USD more for this!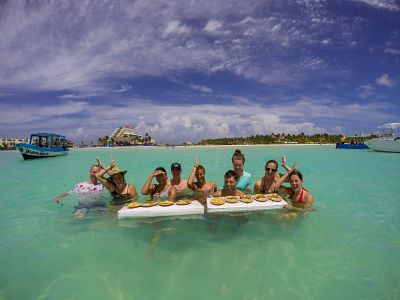 Below is an overview of everything that is included:
Transport to and from the hotel in a comfortable minivan with a maximum of 10 people
Local guide and English speaking guide on board
Boat with a maximum of 10 tourists
Eco tax for the National Park
Good quality snorkeling equipment (we also have so-called "full face" masks)
Water and soft drinks
Light breakfast in the harbor, sandwiches and lunch (let us know if there are any special wishes, e.g. allergies/vegetarian/vegan)
All photos and videos of the day (worth 50 euros!)
Swimming with whale sharks is a unique experience and worth it, especially for this price!
Do you also want to swim with a whale shark, or have you ever swam with a whale shark? How was your experience? Let us know in the comments!