Group tours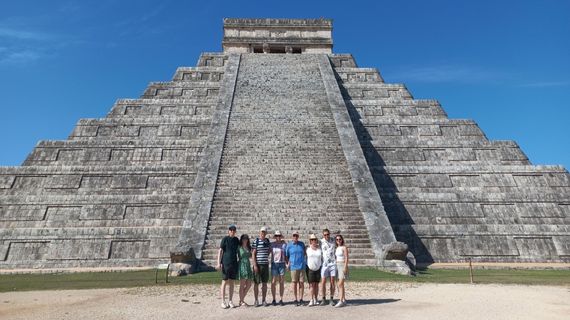 Would you rather explore the nice places in Mexico through a group excursion? Then Tuul Luna Ecotours can certainly help you with that.
The Yucatan Peninsula has so much to offer and the choices are endless. A group excursion can be fun to get to know other people and can be cheaper than a private excursion. (Depending on the number of participants, the price drops with a private excursion.)
Why book a group excursion with Tuul Luna Ecotours:
We choose for a personalized approach and are happy to have direct contact with our clients via WhatsApp.
We will gladly give you free advice to choose the right excursion for you and your family/friends.
There are NO hidden fees. The total price is the final price.
We make sure you leave fully prepared for your excursion.
Below is a list of excursions that Tuul Luna Ecotours offers, together with our local partners.
Request our brochure via WhatsApp for full details of all our group tours.
PRICE
Chichen Itza – Valladolid – cenote
Tulum – sea turtles – cenote
Coba – cenote – Maya community
Ek Balam – Valladolid – cenote
Bacalar
Holbox island
Food tour
ATV & cenote
Whale shark (June till September)
Maya ceremony
DURATION
Full day +
Full day +
Full day +
Full day +
Full day +
Full day +
Full day +
Full day +
Half day
Half day (afternoon) +
Half day
Half day to full day
Half day (evening) +
PRICE adult / kid (4 – 11 y)
130 USD /65 USD
130 USD / 100 USD
105 USD / 95 USD
150 USD / 120 USD
170 USD / 160 USD *
135 USD / 120 USD
110 USD / 100 USD
145 USD / 125 USD
Vip 100 USD / 90 USD Basic 70 USD / 60 USD
54 USD / 54 USD
Single ATV 95 USD Double ATV 150 USD
Price not known yet
99 USD pp / 89 USD pp
ATTENTION:
*Children from 3 till 11 years
+ means that lunch is provided during the excursion. Dinner is provided during the Mayan ceremony excursion.
The price in Euros is calculated based on the exchange rate used by Tuul Luna Ecotours.
---