Let the magic begin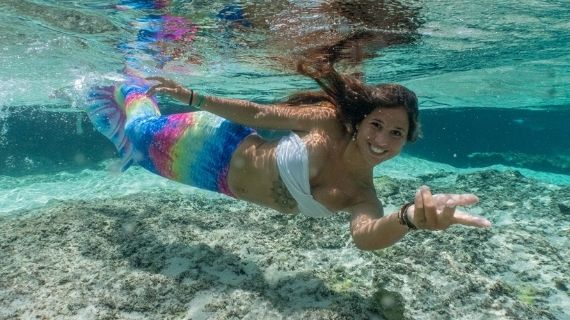 The first stories about mermaids go back to 1000 BC. Legends tell of magical creatures who loved music and singing. They were half human, half fish. In fact, in Greek mythology, "Sirens" were dangerous creatures, half woman, half bird, who seduced sailors and shipwrecked them on their island. Fortunately, today we think completely differently about a mermaid.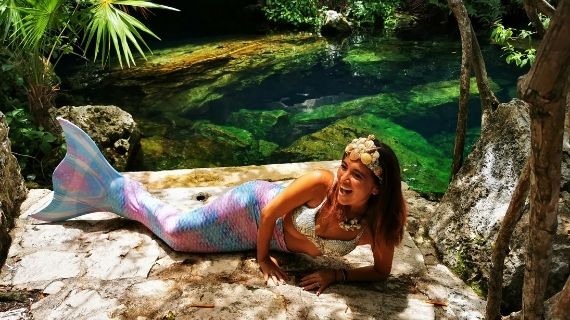 During this excursion, you will have the opportunity to transform yourself into a beautiful mermaid or a merman. The ideal setting is an open cenote where this magical metamorphosis will take place. Before you enter the water, your instructor will teach you specific breathing techniques. Then you'll learn to swim with the tail step by step. Don't forget to smile because this special experience will be recorded on video for you.
Undergo this magical metamorphosis safely with a certified SSI MERMAID instructor and enjoy this unique experience!
---
PRACTICAL
Half day tour!
PRICE from Playa del carmen:
1- 3 pers. 150 USD pp
From 4 pers. 100USD pp
Not recommended for children younger than 5 years old.
For who: for all who dream of becoming a mermaid or a merman
Active day: swimming with the tail at the surface and underwater
INCLUDED IN THE TOUR
Small groups for personalized service
Certified SSI MERMAID instructor in English
Transport with AC to and from accommodation
Entrance to the cenote
Snorkel gear (mask, fins, accessories)
Drinking water
Snack
Video and pictures
---